April 2012
Chinese parents buy Manhattan NY condos for son or daughter
中國父母幫兒子或女兒買曼哈頓紐約的公寓
Many of our buyers are Chinese parents from out of town or country to buy a luxury condo for their son or daughter.
Asian parents knows the value of sending son or daughter to go to school in United States or aboard, New York is one of the US city that is on top parents lists.  New York has a very unique and different market than other parts of the world. Buying condo in Manhattan New York can be complicated and stressful if you are not team up with the right agent as this is a very unique market place unlike anywhere else in the country or world. Many parents who are buying for their son/daughter that goes to school (New York University, Parsons school of design, School of Visual Arts, Columbia University, music school, other well known schools) or simple work in Manhattan New York.
Few key steps to prepare and understand before your home search
Time frame – is your son or daughter current renting an apartment? This is important to know so you can plan ahead.
Location – Location is everything in buying Real Estate. Where is the school son or daughter will be going to? Or where is their office? Would you prefer a neighborhood that is closer to where they will be going to daily? Or any specific preference? Manhattan New York neighborhoods vary, many convenient and central neighborhoods are in very much high demand. The buyers for those particular neighborhood must act quickly if they see a property they like.
45 days to 60 days IF YOU PLAN ON PURCHASE IT ALL CASH, cash means money in your bank account, this does NOT include any offshore financing or creative financing. (this does not include New development or new construction buildings. If new buildings, it can be much longer depending on the building, or it can be quick) Typically, the quickest we can close would be 45 days.
60 days or LONGER if FINANCING: If you are planning on financing this investment, be sure to speak to a local Manhattan lender that is familiarize with the market, the lending rules, and the mortgage products that may be suitable for you and your son/daughter.
Experienced and efficient Bilingual Real Estate Agent: We are the top producing team that is bilingual in Mandarin Chinese and English. We are also the Manhattan New York market experts to educate you the housing market. Working with us will help you find the most ideal condo for your son or daughter and stress free transaction.
To avoid any delay or issues during your home search for your son and daughter, it is advantageous for you to team up with agents who have the experience to ensure a smooth process. You may have purchase homes in your home state or country before, but Manhattan New York is a very unique market, and Real Estate is local so it will benefit you as a buyer to best prepare so you do not waste anytime if you plan to visit NYC and identify a property for your son or daughter, call us today to plan this purchase today.
若您或您有認識的人想在曼哈頓置產,請您來電給我們(646)644-2929。以我們豐富的交易經驗提供您最完美最完善的服務。我們也提供客製化置產投資諮詢,依您的需求為您找到最好的置產投資計畫。
---
Manhattan New York Penthouse with a Pool – 有游泳池的頂樓房
Your very own private pool from your Manhattan Penthouse Condominium.  A private pool, not just an outdoor shower or Hot Tub is the epitome of rarity and luxury for a Manhattan penthouse condominium.
Many of Manhattan New York buildings will have a pool as part of the amenity package, these pools are exclusive to the building residents,  however your very own private pool is extremely rare.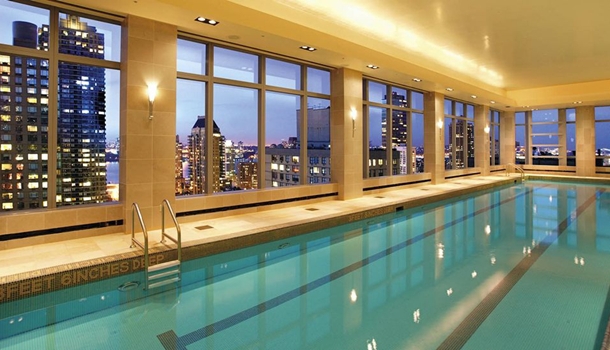 In Manhattan New York, there are very few condominium with their own private pool, usually less than a hand full. Even then it's not a guarantee that there will be an apartment with its own private pool.
There are multiple layers of challenges in constructing a private pool on top of any high rise condominium, along with that difficulty comes with it the luxury of being able to walk out onto your roof top deck or terrace and going for a swim anytime you want. (photo courtesy of Mandarin Oriental.)
If you are looking for a private pool as an absolute necessity, you will be either looking at a penthouse condominium or also a townhouse property. There are more townhouse residences that have built in pools in the lower levels of the building than there are penthouse condominiums with roof top pools.
Manhattan NY Penthouses with a private pool starts in the $15,000,000 range.
We have full access to Manhattan New York Penthouse availabilities.
Our team are experienced and knowlegable in Manhattan New York Real Estate market. Many of Eileen's past clients work with her and her team because of our aggressive approach in searching for their one of the kind unique Manhattan penthouse. They are also very satisfied with our detail oriented service faciliating every step of the way to ensure a smooth purchase for these very busy and important penthouse buyers.
Eileen Hsu is also a bi-lingual Chinese and English speaking Real Estate agent that have worked with many top Asian CEO and business executives in finding their Manhattan New York Penthouses, often they used the New York Penthouses as their vacation home or a future investment when their young children decide to go to School or Universities in New York.
Penthouses with a pool is hard to come by, to be on the VIP list on the first notification basis on the penthouse you wish to purchase, call Eileen Hsu and her team today at 646 644 6929 or email us (http://chinesespeakingagent.com/contact/) .
---
Eileen Hsu and Catherine Jin are Chinese Speaking Real Estate Agents in Manhattan New York.
We are full time Real Estate agents, bilingual in English and Mandarin Chinese and have helped many Chinese speaking Buyers purchase condo investments in Manhattan New York.
大家新年好, 我是Eileen Hsu 許雅嵐, 你也可以稱呼 我Eileen. 我是在曼哈頓做地產的經紀人 (Chinese Speaking Real Estate Agent). 今天我們談一談父母親幫孩子買房子有什麼幾點要注意的.
第 一點是, 紐約這邊的房員有百分之八十五是合作公寓, 如果您在網上看到的話就是叫做coop. 另外一種是condo. 那condo是什麼呢? Condo的話,就是有產權的房子. 有產權的房子對我們華人來講是比較方便的, 因為可以自由的出租或者說是轉賣, 不需要委員會的同意或者批准, 只是有些表格要填, 讓他們通過而已. 那如果我們今天要來買房子, 幫孩子買, 大部分的華人是買condo的. 因為這樣子如果孩子以後就職在別州或者是離開紐約, 可以當作一個投資的機會來出租.
今天您如果要在這裡投資, 或著說幫孩子買房子, 請您跟我來電, 我們可以詳細的談, 我的電話是646-644-6929. 也可以麻煩您打個e-mail給我 我會馬上給你們回電好嗎 謝謝!
---