May 2011
Manhattan NY Condo FAQ: Can I renovate my Manhattan NY Condo?
The quick answer is Yes.  You can certainly renovate your Manhattan New York Condo. The long answer is that it's not going to be as easy as you may think and certainly going to cost more than what you could do in a more suburban environment.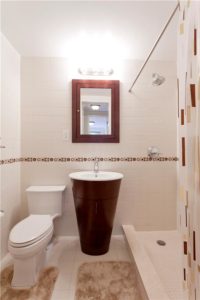 Now that you are a condo owner, you have to live within the by-laws the building has adopted.  One of those by-laws concerning a renovation is that any person you hire to come in and do work must be licensed, bonded and insured.Because work you are performing to your Condo could possibly effect another condo, the contractor you use has to be authorized by the building to perform the work.
Another large factor involved is that any work to the condo apartment typically has be be authorized by the building management and condo board.  If you are renovating your bathroom or remodeling the kitchen where the plumber will be tapping into the building's plumbing systems before you do any of the work, you will submit an alterations agreement to the building to make sure the work you are doing isn't going to negatively effect other apartments.
This process of getting your renovation authorized by the building can take some time, especially if you need permits from the city of New York.
If you are remodeling your house the worker's can start very early in the morning and stay late into the evening if you want them to.  Not in a Manhattan condo building. There will be building work hours, typically between 9-5pm, Monday through Friday. The limited hours will add to the amount of time it takes to finish a project.
Don't be surprised if the cost to do what you may think is a simple renovation is more expensive than what you expected.  The labor costs here are much higher than anywhere else.The key aspect to renovate big or small your Manhattan apartment is to work with an experienced general contractor who has a lot of experience working in Manhattan apartment buildings.  Who understand how to process the paperwork, who knows how long and how much a renovation is going to cost.  We work with a number of different contractors who have such experience depending on the type of project you want to undertake.
Because renovations are not as easy as you'd think, that is why there is such a premium price for fully renovated turn key apartments in the city.  Completely unrenovated ore estate condition apartments typically sell at a discount because renovating them is not as easy as you'd think.  If you are looking for an apartment to renovate be prepared to undertake the project or hand it off to an experienced contractor.
---
Dorchester Towers located at 155 West 68th Street New York NY 10023 is located in one of the most prime Upper West Side Condos locations. Just blocks to Lincoln Center, Dorchester Towers is one of the longest established Upper West Side Condo buildings.
This Upper West side condo was built in 1965 originally as a rental building when the Upper West Side was still an up and coming neighborhood. Dorchester Towers at 155 West 68th Street is now in one of the most desirable and convenient Upper West Side locations. Converted in the late 1980′s into a condominium building Dorchester Towers Condos is a full service doorman building. Dorchester Towers has a roof top deck, laundry on every floor, bike room, on-site management, and circular driveway.
Dorchester Towers has some of the most attractively priced Upper West Side Condos Sales and Rentals available. Whether you are looking for a Upper West side One bedroom condo or two bedroom condo for sale, Dorchester tower condo may be the the building for you.
At Dorchester Towers, Dorchester Towers is one of the most desirable Upper West Side Condos buildings. If you are looking to purchase a Lincoln Square Condo contact us at (917)837-8869 or (646)644-6929 today.
---
We are Chinese-Mandarin speaking agents, and we specialize in Manhattan New York condo market and well verse in all neighborhoods of Manhattan New York.  These frequent asked questions will help educate buyers the buying process and the Manhattan New York Market. As experienced Manhattan condo Real Estate agents, we compiled many other Manhattan NY Condos Frequent Asked Questions you can read here: (http://manhattannycondosforsale.com/tag/manhattan-ny-condos-faq/).
One of the frequent questions we receive is "How long does it take to close on a Manhattan NY Condo?"
***To be specific, this question pertains to Condominium sales in Manhattan, NOT co-op sales.  The closing process for a co-op is very different than a condominium sales.***
How quickly you can close on your Manhattan NY Condominium purchase depends on a couple of different things.
Is it a New Construction condo or Resale Manhattan New York condo?
Are you buying it ALL CASH or FINANCING?
What kind of building you are purchasing in?
If you are buying a new construction condominium that has their certificate of occupancy and is completed enough that you can move in, then you could probably close within a couple of weeks once the contracts are signed, if you are paying cash for the property.  There is no condo application to submit or condo board waiver needed.  Your closing will depend on how quickly the attorneys can schedule the closing.
If you are buying a resale condominium all cash, then you will have to submit a condominium purchase application, a credit check will be completed, and the condominium board typically has a first right of refusal for the apartment and they must issue a waiver for you to be able to schedule a closing for the apartment.  So in this case the closing depends on how quickly you can submit the application (here is blog post we wrote about condo sales applications).  Often sales applications require some financial documentation, maybe reference letters, documents to be notarized, etc.  The longer it takes for the application to be submitted the longer it takes you to close on the Manhattan NY Condo.  Once the application is submitted the first thing the management company usually does are the credit and background checks.  Each management company works at a different pace, often they will say they have 5-7 business days, to complete the checks, which in reality can turn into 2 weeks.  Then they give the board the application.  Each building is different, but each building will have a certain amount of time they are allowed to review the application, often 3-4 weeks. The board might not take the full 3-4 weeks, sometimes they might issue the waiver in a week, but sometimes it could be the full amount of time.  Once the board issues the waiver for you to purchase then a closing can be scheduled. All in, you are probably looking at approximately 30 days-60 days once the contracts are signed until you can move into the apartment in a resale condominium.
How are you purchasing the Manhattan NY Condo? (All Cash vs. Financing)
An all cash purchase is always the fastest way to close on a Manhattan New York. This means you have all the funds for closing in the bank account, and/or the funds are in an account that can be wired/transfer to a New York bank account to issue the check.
If you are financing the purchase that is probably going to double the amount of time it can take compared to the cash option.  One of the big realities of getting financing for a Manhattan NY condominium in today's lending environment is that the bank will not only be qualifying you as a borrower but they will also be looking at the building if they want to do a loan in the building.  The qualification of the building is going to be different for every bank.  One bank might be okay with doing a loan in the particular condo building and another may not, even though the banks are using the same information about the building to determine their desire to give you a loan for that building.
Qualifying the Manhattan Condo building is a process that will add time to the closing.  We have seen certain banks able to qualify the building and the buyer, do the appraisal, issue the commitment letter and have underwriting give a clear to close in 45 days from the time of contract signing, but we have also experienced when it takes more than 5 months for the bank to finally give the clear to close.
What also adds time to the closing when you are financing is that in a re-sale condominium building, the purchase application will often require the purchaser to submit the committment letter from the bank within the application.  As we have already discussed, once the application is in the hands of the board in can easily take 30 days to get the board's approval.  Once the board issues the waiver that the buyer can purchase, then the bank will have the underwriters look at the buyer's information again before they issue a clear to close.
As you can probably easily see, the process can become arduous and consuming very quickly because there are so many integral steps that have to be done one at a time when financing your purchase.
Conclusion:
Every buyer's situation will be different and there is no one step by step map for every purchase.  Depending on what you are buying, how you are buying (all cash vs financing), and the building you are purchasing in will determine the approximate amount of time it will take to close.
If you want to know more about what to expect for your OWN situation, contact us today and we will talk to you about how long it will take for you to close on your Manhattan NY condominium.
Other Must Read Useful blog articles:
---
We are Manhattan New York Condo specialists, we work with many out of town first time investors and buyers that would like to acquire a Manhattan New York condo as part of their investment portfolio.
We often have a check list of basic steps to educate the buyers as to how to get started. Here is a good check list:
Consult with a reputable lender or mortgage consultant to see how much can you finance in today's market. In today's market, lending guidelines are changing by the day, it is in your best interest to see what will it take to qualify for a loan.
Do speak to your banker if you have money in bonds and money market. Find out how many days will it take to liquidate your funds so you know once we have a verbally accepted offer. Often in Manhattan New York market place, the seller seeks 10% of the sales price as downpayment at the time of signing contract. With that being said, if you are buying $1M Manhattan condo, you will need $100,000. at contract signing.
Do your homework on finding an Real Estate agent to work with. What is it that you are looking to buy? You want to find an agent that is familiar with the product that you are interest in buying. We are very well versed in Manhattan New York market, we have sold many Manhattan New York condos to first time home buyer, first time investors, foreign internationals, parents buying for children and many serious and motivated buyers. A Condo or Co-Op? Uptown or Downtown? Do you speak specific language that you preferred the agent speaks your mother tongue? Do you need an agent that work specifically with foreigners? Go on a search engine such as Google, try type in what you are looking for, and see if any agent shows up on the search result.
Do Have a realistic budget of what you are looking for. Manhattan New York condo is approximately $1,000 per square foot, so unless you are looking for a 500 SF one bedroom, you will need more than $500K to buy a one bedroom condo. (the price will also depend on the building amenities, such as fitness center, residents lounge, roof deck, basketball court, swimming pools and etc.)
Do speak to an accountant to see if you need to structure the purchase in a specific way to enjoy the tax deductible benefits of buying a Manhattan Real Estate. If you are a first time home buyer, is it beneficial to co-purchase the condo unit with your parents or alone; If you are an foreigner, is it better to buy it under your own name or start an LLC?; If you are an out of town investor, is this purchase going to be an investment property or?
Do have a Manhattan New York Real Estate attorney ready. Manhattan Real Estate transaction requires each buyer and seller to have an attorney representing them in drafting and finalizing the contract. A good attorney can save you headachs, money and risks, ask your agent to refer you (3) attorneys so you can call and interview. Explain to the attorney what you are planning to do, and see which attorney you feel most comfortable to work with.
If you would like to find out more information or learn about more Manhattan New York investment opportunities, please contact me today.  Email us today (http://manhattannycondosforsale.com/contact/) call (646)644-6929.
Manhattan New York condo buyers frequent asked questions:
---