Featured Property
With Summer near us, New York Real Estate market here is heating up faster than New York city weather.  OVERVIEW of MANHATTAN NEW YORK MARKET as of MAY 2013.
Limited housing supply is still the driving force as demand for the most prime and well priced apartments is still quite evident. We are seeing multiple bidding scenario's on what seems like most condos that come on the market.  If an apartment is priced well and is found in an established building in what's considered a good neighborhood if you don't see it within the first week of coming on the market it's often too late as they have already received a few offers.
We have been extremely busy seeing a lot of the new development condominium projects all over the city.  The main theme that we have seen is that property is flying off the market right now.  The first sign of the hot market is when you are trying to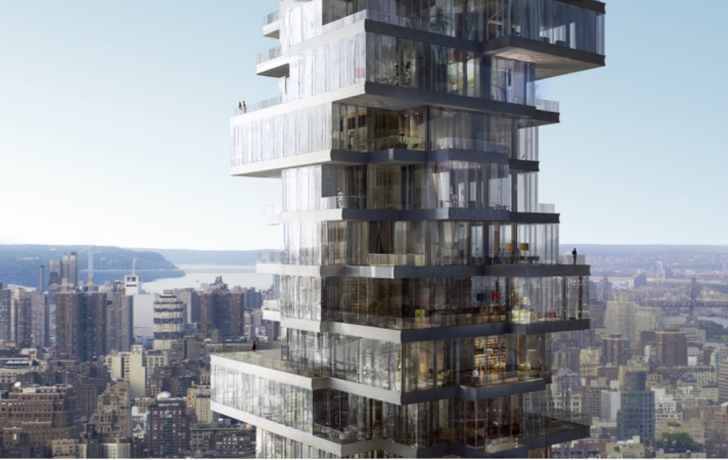 schedule an appointment and they are already booked for days in advance and when you finally get to the development office what you saw on-line a week ago as available has a contract out already.  The name of the game with new development is get in early and be ready to make a quick decision.
The re-sale condominium market where we represent a lot of sellers and buyers shows many of the same similarities.   Sellers are definitely in control of their destiny more so now than they have been in the last couple of years.  For most types of apartments demand far outweighs the inventory out on the market and when an apartment comes on the market the first open houses are packed and the most well educated and serious buyers are not afraid to make very good offers.
If you are interested in buying or selling in Manhattan New York, contact us today at (646)644-6929 or send us an email, we will get back to you promptly.
---
二月份我們公司舉辦了每年例行的頂端經紀人晚會,托大家的支持,這已是我連續第二年得到公司的白金總裁獎(公司銷售經紀人頂端1%)。 在一個旗下擁有3,800個經紀人的公司,
 20,000多個經紀人在競爭的紐約曼哈頓市場,這是個具有象徵性的里程。
我在這家公司 Douglas Elliman Real Estate 已待了八個多的年頭,從一開始就在公司內部銷售數一數二的辦公室(West 17th Street.)讓我見識到許多頂尖的銷售經紀人的能力(隨時都在賣(或賣出)美金兩千萬的豪華公寓),這讓我提醒自己隨時都要充實自己的知識跟學問,才能把握下一個機會。
附上幾張公司頒獎典禮的照片。期盼盡快收到您的音訊。
Eileen Hsu was awarded with Chairman Circle Platinum Award (top 1% of the company) last two years in a row (both year 2011 and 2012). This is a great achievement in a company with 3,800 agents, total of 20,000 agents in Manhattan New York and in a competitive New York city market.
Eileen Hsu is currently a SENIOR VICE PRESIDENT of DOUGLAS ELLIMAN Real Estate brokerage in Manhattan New York.
---
Mandarin Chinese Speaking Real Estate Agent 2013 New York discuss what kind of housing product Chinese buyers can purchase in Manhattan New York with $1,000,000 USD.
---
Mandarin speaking Real Estate team in Manhattan
Eileen Hsu team is a bilingual Mandarin and English speaking Real Estate team in Manhattan. Our international buyers work with us because we are experienced, dedicated and efficient.
As a bilingual Mandarin and English speaking Real Estate agents, when we represent buyers, we use our experiences to protect our buyers interests and negotiate the most ideal terms for our VIP Chinese buyers. Our past clients usually refer their family and friends to us because our exceptional service and result.
We are Mandarin Speaking Real Estate team that are very well experienced in various neighborhoods of Manhattan, such as Midtown East, Midtown West, Columbus Circle, Upper West Side, Union Square, Financial District and Fifth Avenue condos, just to name a few. We have  worked with Chinese buyers and investors from local Manhattan communities, China, Taiwan, Hong Kong, Canada, Malaysia, Singapore and the USA.
Contact us today if you are a Mandarin-Chinese speaking buyers looking to purchase in Manhattan New York.
我們是在曼哈頓地產界中會說普通話的華人專業團隊。許多買家與我們合作,因為我們高效率,直率、切入重點,不耽誤客戶保貴時間。
做為買家代表,我們極力爭取購房者的利益,為我們尊貴的中國買家得到最有利的協議。與我們合作過的客戶當中,因為我們的專業及服務,有許多會介紹他們的家人和朋友與我們合作。
我們這個講普通話的房地產團隊在地產業擁有豐富的經驗,可提供來自中國,台灣、香港、加拿大、馬來西亞、新加坡,及各國買家和投資者相關有用業界的資訊。
今天您如果要在這裡投資, 或著說幫孩子買房子, 請您跟我來電, 我們可以詳細的談,電話是 646-644-6929 免費提供買方優質服務。
---
Many of our international buyers love Central Park and would like to buy a two bedroom condo with Central Park view, the pricing of Central park condo has a broad range because it depends on a number of variable's, most importantly if you are looking within a certain building and specifically what type of Central Park View are you looking for?
Time Warner Center at 25 and 60 Columbus Circle. Non-park exposure facing Two Bedrooms are typically asking on average about $4,000,000 USD, but the direct park facing exposure units usually start in the $8,000,000 range.  There is quite a premium for the park facing units.  Other factors might come into play also, such as park facing units might be a bit larger than the non-park facing apartments.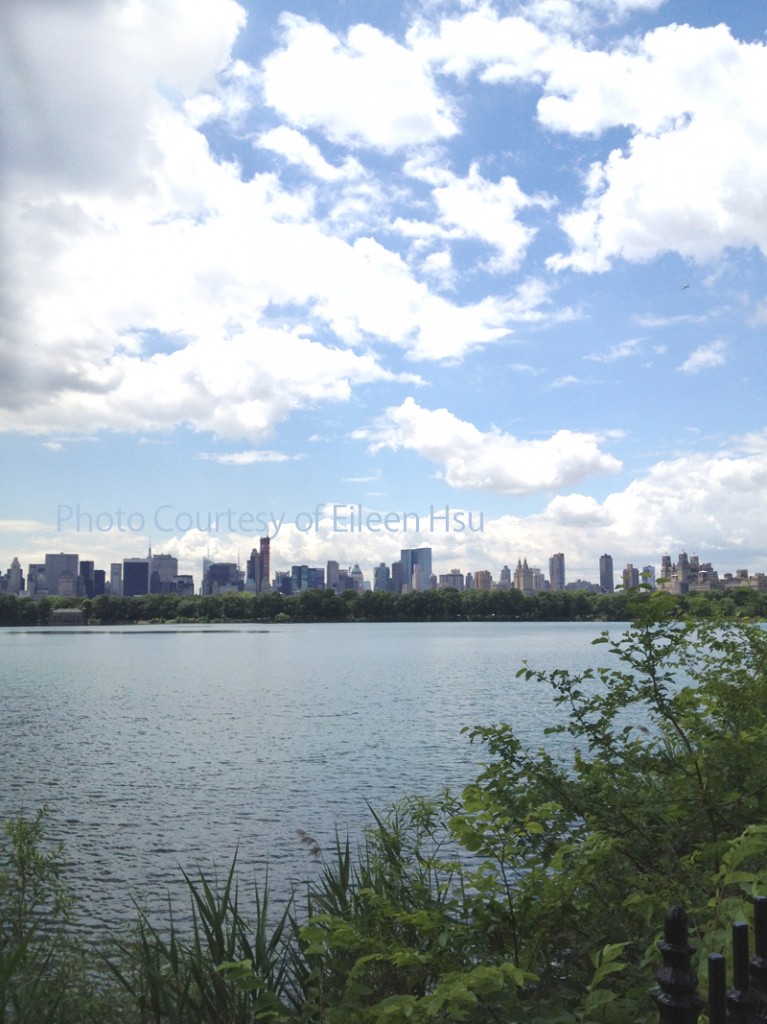 The premium for Central Park Views from within the same building is going to be a consistent variable, no matter the building.  If you are looking at 101 West 67th Street, 160 Central Park South, 1 Central Park West, or 15 Central Park West, the premium for Central Park Facing units is going to be quite evident.
The type of Central Park view you desire is going to also determine the buildings you will be looking at and the price segment that you will have to look within.  If you want an unobstructed direct park views in a building right on Central Park there are only going to be a few codominiums both on Central Park West, Central Park South or Fifth Avenue that have this type of view and placement.
If you just want the view but can be a block or two off of Central Park then your options will open up. A building like 101 West 67th St has some of the most commanding Central Park Views in the Upper West from a condominium building, or 721 Fifth Avenue or One Beacon Court, the high floor units have spectacular views.
Call us and we can find you a suitable condo with Central Park view or near Central Park.
---
International-foreigners or Chinese buy NYC Flats Questions & Answers Part 1
We have an international clientele from all over the world, many of them refer NYC condos or apartments as 'flats'. Buyers from United Kingdom, Ireland, Australia, Singapore, Malaysia, Hong Kong and few other countries often would use the term 'flats' for these condo units.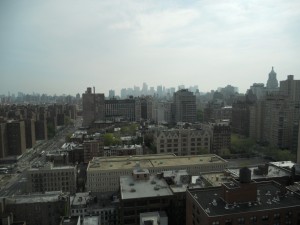 We as Manhattan Real Estate property agents and bilingual in Chinese and Mandarin language, we work with many international foreigners Chinese buyers wanting to buy a NYC flat or flats. Our job is to educate buyers about our unique Manhattan housing market before their arrival, discuss what they have in mind, type of NYC flat they prefer, and the price range they would like to spend. Based on their initial criteria, we can then recommend them the best strategy and process to go about their purchase for NYC flats.

When foreigner plans to buy an NYC Flat, they often have a list of common questions, we have compiled a list to better inform them. Here are part 1 of the questions and answers.
Can Foreigner-international Chinese buyer buy a NYC flat without having United States Social Security Number or United States residency? Yes, foreigner-international buyer can legally buy a NYC flat, but have to meet the NYC Condo board's requirements for approval. At the sale of the real property, Non-resident aliens (foreigners) are subject to federal withholding tax at 10% of the gross sales price, and to a 8.97% New York State estimate income tax on the net sales proceeds (gains).
Can Foreigner international Chinese buyers obtain United States mortgage financing? 9 out of 10 of our foreign international buyers prefers to purchase the NYC flats with all cash. It is very difficult for Foreign international buyers to apply for an US mortgage in today's market place, it is advisable if possible for the buyers to obtain financing options in their home country and buy it all cash here in Manhattan New York. If you absolutely need financing, please contact us directly so we can discuss the possible options.
As experts in working with Foreign National Chinese buyers and out of town Chinese speaking buyers, we are constantly educating the buyers and addressing the misinformation and false assumptions that client bring from his/her home town/country, and culture in order to explain the options, alternatives, and their consequences.
Contact us by clicking this link. http://chinesespeakingagent.com/contact/ .We can discuss the options of your specific needs and time frame. Thank you.

---
RIVERSIDE BLVD Manhattan New York
Riverside Boulevard is the location of the Trump Park Buildings and now the Extell Development Buildings in the Upper West Side. Not to be confused with Riverside Drive which starts at 72nd St and goes north, Riverside Boulevard starts at 72nd St and goes SOUTH.  Right now it end at 62nd St, but will be lengthened as new development, specifically the Riverside South development project begins.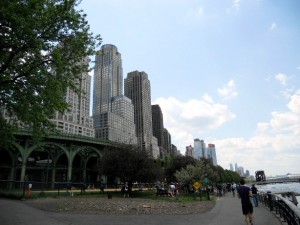 The Riverside South project was notably developed byDonald Trump and his partners.  Not an easy project that took some time to actually happen as it was a
complicated and massive development deal.  The area was originally a freight rail yard owned by New York Central Railroad. Also complicated the development was the West Side Highway, which had to be buried for a certain amount of road.
After decades and many different configurations the project finally came to some fruition as a number of hi-rise condominium buildings were built under the Trump Place name and the Riverside Boulevard address was born. Riverside Blvd is home to the Trump Place buildings and now a number of Extell development buildings including The Rushmore and the new condominium the Aldyn.  There is still southern expansion of the area that is going to be the home of more condominium building's along with planned parks, school, retail and community involvement.
Some of these buildings include 240 Riverside Blvd-The Heritage at Trump Place, 200 Riverside Blvd, Trump Place at 120 Riverside Blvd, 100 Riverside Blvd-The Avery, 80 Riverside Blvd-The Rushmore and 60 Riverside Blvd-The Aldyn.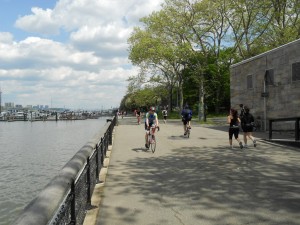 To Read More Useful Blog Posts:
If you are interested in purchasing, renting, selling or investing in any of the condominium buildings on Riverside Blvd contact us today at (646)644-6929 or Email http://chinesespeakingagent.com/contact/
---
Central Park Apartments with terrace Have you been looking for a Central Park Condo with a terrace or outdoor space? There are very few buildings that have that rare of all Manhattan condominium features, your very own outdoor space. Having your very own private terrace or balcony is a highly desirable feature.
To begin with, there are very few condominium buildings that directly face Central Park. Now add in the combination of having outdoor space and you are looking at a very limited section of the market. To get a Central Park view, you either have to live in a building that directly faces Central Park, such as Fifth Avenue on the Upper East Side, Central Park South, or Central Park West on the Upper West Side. Or you need to find a condominium building that is tall enough to clear the buildings in front of it and still see Central Park, a building like 101 West 67th Street-The Millennium Tower, 25 Columbus or 60 Columbus Circle at the Time Warner Center, 1 Beacon Court or 721 Fifth Avenue, or the Park Imperial, just to name a few. The general room of thumb is that the higher the floor in a building, the more than likely you will not have accompanying outdoor space. Can you imagine being 60 stories up with a huge outdoor terrace?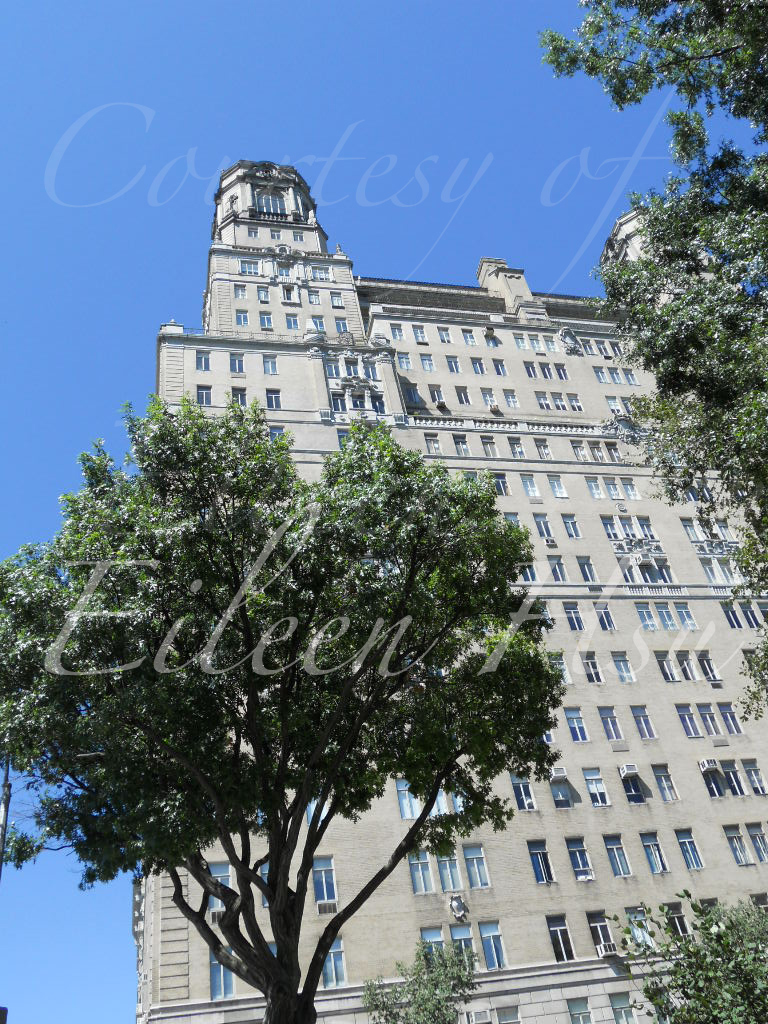 To find a Central Park Condo with a terrace, you will probably have to live on one of the exclusive avenues facing Central park directly. A few examples of Central Park condos with terrace's could be found at a building such as 160 Central Park South-The Essex House or 15 Central Park West, 279 Central Park West, on the Upper East Side at 1212 Fifth Avenue and other select Fifth Avenue Buildings.
Expect pricing to be quite specific to each building. Any apartment with direct Central Park views is not priced like other apartments that might be similar in size, they are priced and compared to other Central Park facing condos.
If you want the Central Park View but don't absolutely need the terrace
and want to save on price then moving to a taller building that still has unobstructed views of the park is a great option. There will be more selection, compared to a search with outdoor space.
Overall, a search for Central Park Condos with a terrace will include some of the most exclusive apartments in all of Manhattan, having your very own apartment facing Central park is well worth the investment.
Contact us (http://chinesespeakingagent.com/contact/) or call (646)644-6929 directly to discuss what exactly you are searching for in terms of the Central park apartment with terrace. These apartments are one of the kind and not always available, we can start the conversation early and we will put you on the list to contact as soon as one becomes available if they are not currently on the market.
To read more about Central Park neighboring buildings or Manhattan Real Estate market, see blogs posts below:
---
Dorchester Towers located at 155 West 68th Street New York NY 10023 is located in one of the most prime Upper West Side Condos locations. Just blocks to Lincoln Center, Dorchester Towers is one of the longest established Upper West Side Condo buildings.
This Upper West side condo was built in 1965 originally as a rental building when the Upper West Side was still an up and coming neighborhood. Dorchester Towers at 155 West 68th Street is now in one of the most desirable and convenient Upper West Side locations. Converted in the late 1980′s into a condominium building Dorchester Towers Condos is a full service doorman building. Dorchester Towers has a roof top deck, laundry on every floor, bike room, on-site management, and circular driveway.
Dorchester Towers has some of the most attractively priced Upper West Side Condos Sales and Rentals available. Whether you are looking for a Upper West side One bedroom condo or two bedroom condo for sale, Dorchester tower condo may be the the building for you.
At Dorchester Towers, Dorchester Towers is one of the most desirable Upper West Side Condos buildings. If you are looking to purchase a Lincoln Square Condo contact us at (917)837-8869 or (646)644-6929 today.
---
We are Chinese-Mandarin speaking agents, and we specialize in Manhattan New York condo market and well verse in all neighborhoods of Manhattan New York.  These frequent asked questions will help educate buyers the buying process and the Manhattan New York Market. As experienced Manhattan condo Real Estate agents, we compiled many other Manhattan NY Condos Frequent Asked Questions you can read here: (http://manhattannycondosforsale.com/tag/manhattan-ny-condos-faq/).
One of the frequent questions we receive is "How long does it take to close on a Manhattan NY Condo?"
***To be specific, this question pertains to Condominium sales in Manhattan, NOT co-op sales.  The closing process for a co-op is very different than a condominium sales.***
How quickly you can close on your Manhattan NY Condominium purchase depends on a couple of different things.
Is it a New Construction condo or Resale Manhattan New York condo?
Are you buying it ALL CASH or FINANCING?
What kind of building you are purchasing in?
If you are buying a new construction condominium that has their certificate of occupancy and is completed enough that you can move in, then you could probably close within a couple of weeks once the contracts are signed, if you are paying cash for the property.  There is no condo application to submit or condo board waiver needed.  Your closing will depend on how quickly the attorneys can schedule the closing.
If you are buying a resale condominium all cash, then you will have to submit a condominium purchase application, a credit check will be completed, and the condominium board typically has a first right of refusal for the apartment and they must issue a waiver for you to be able to schedule a closing for the apartment.  So in this case the closing depends on how quickly you can submit the application (here is blog post we wrote about condo sales applications).  Often sales applications require some financial documentation, maybe reference letters, documents to be notarized, etc.  The longer it takes for the application to be submitted the longer it takes you to close on the Manhattan NY Condo.  Once the application is submitted the first thing the management company usually does are the credit and background checks.  Each management company works at a different pace, often they will say they have 5-7 business days, to complete the checks, which in reality can turn into 2 weeks.  Then they give the board the application.  Each building is different, but each building will have a certain amount of time they are allowed to review the application, often 3-4 weeks. The board might not take the full 3-4 weeks, sometimes they might issue the waiver in a week, but sometimes it could be the full amount of time.  Once the board issues the waiver for you to purchase then a closing can be scheduled. All in, you are probably looking at approximately 30 days-60 days once the contracts are signed until you can move into the apartment in a resale condominium.
How are you purchasing the Manhattan NY Condo? (All Cash vs. Financing)
An all cash purchase is always the fastest way to close on a Manhattan New York. This means you have all the funds for closing in the bank account, and/or the funds are in an account that can be wired/transfer to a New York bank account to issue the check.
If you are financing the purchase that is probably going to double the amount of time it can take compared to the cash option.  One of the big realities of getting financing for a Manhattan NY condominium in today's lending environment is that the bank will not only be qualifying you as a borrower but they will also be looking at the building if they want to do a loan in the building.  The qualification of the building is going to be different for every bank.  One bank might be okay with doing a loan in the particular condo building and another may not, even though the banks are using the same information about the building to determine their desire to give you a loan for that building.
Qualifying the Manhattan Condo building is a process that will add time to the closing.  We have seen certain banks able to qualify the building and the buyer, do the appraisal, issue the commitment letter and have underwriting give a clear to close in 45 days from the time of contract signing, but we have also experienced when it takes more than 5 months for the bank to finally give the clear to close.
What also adds time to the closing when you are financing is that in a re-sale condominium building, the purchase application will often require the purchaser to submit the committment letter from the bank within the application.  As we have already discussed, once the application is in the hands of the board in can easily take 30 days to get the board's approval.  Once the board issues the waiver that the buyer can purchase, then the bank will have the underwriters look at the buyer's information again before they issue a clear to close.
As you can probably easily see, the process can become arduous and consuming very quickly because there are so many integral steps that have to be done one at a time when financing your purchase.
Conclusion:
Every buyer's situation will be different and there is no one step by step map for every purchase.  Depending on what you are buying, how you are buying (all cash vs financing), and the building you are purchasing in will determine the approximate amount of time it will take to close.
If you want to know more about what to expect for your OWN situation, contact us today and we will talk to you about how long it will take for you to close on your Manhattan NY condominium.
Other Must Read Useful blog articles:
---
We as Manhattan Real Estate professionals, we work with many international foreigners wanting to invest in Manhattan Real Estate. In addition to educate foreign buyers about the maze of Manhattan Real Estate market, our specialty is facilitate the purchase to ensure the transaction is smooth and successful. Below are some frequent asked questions by our foreign buyers, the answers are formulated by our team of professionals (tax accountants and attorneys who also specialized in foreigners purchase in Manhattan New York.) These answers are general and not case specific.  To best address your specific needs,contact us directly by email or call (646)644-6929.
Can Foreign Nationals buy a NYC condo without having Social Security Number or US residency?
Yes, they can legally, but have to meet the NYC Condo board's requirements for approval. At the sale of the real property, Non-resident aliens are subject to federal withholding tax at 10% of the gross sales price, and to a 8.97% New York State estimate income tax on the net sales proceeds (gains).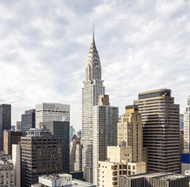 Can Foreign Nationals with work visa or student visa buy Manhattan Properties?
Yes, they can legally, but have to meet the condominium/coop board's requirements for approval.  If they remain non-resident aliens at the time of the sale of the real property, they will be subject to the same taxes at the time of sale, as above.
If not, what kind of documents should a foreign nationals prepare to be able to buy?
In order for a Foreigner to buy NYC condo, they need to have  a valid passport and/or other official photo ID for identification purpose.
What are the Options for Foreign Nationals (non-residents aliens) to hold title for NYC condos: (these answers are information only, we are Real Estate professionals, therefore, before you make a specific decision, we recommend you to discuss with our team of attorneys and tax accountants for your specific case.)
Individual: Individual may be exposed to unlimited personal liability, and to estate issues, for instance, inheritance,  will probate and estate administration, when the individual owner dies.
LLC: Limited Liability Corporation provides insulation for members from personal liability, but will incur maintenance costs, such as  filing fees for its formation, annual franchise tax  and is subject to higher formation costs (higher than a corporation).
Trust: Trust is an unincorporated entity, cannot hold title by itself; title must be reqistered in the  individual trustee's name.;  the individual trustee may be exposed to unlimited personal liability.
S Corporation: S Corporation is a legal entity, insulates shareholders for from personal liability, does not pay income tax itself, the income tax liability is attributed to the shareholders.  It is subject to filing fees for incorporation, annual franchise tax, etc.
C Corporation:  C Corporation is a full fledged legal entity.  It provides shareholders insulation from personal liabilities.  It is a taxable entity for corporate income tax.  Any distribution of after tax profit to shareholders in the form of dividends will be subject to income tax for the shareholder.  It incurs maintenance costs, such as filing fees for incorporation, annual franchise tax, etc.  Its filing fees are less than that for the LLC.
Limited Partnership: the limited partner's liability is limited to his/her capital interest in the limited partnership, whereas the general partner will be subject to unlimited personal liability.  Limited partnership, like general partnership does not pay income tax.  The income tax liabilities are attributed to the individual partners. A limited partnership need to file the partnership agreement with the government.
*These answers are general and not case specific. To best address to your specific case, contact us directly at (CONTACT US) and we can set up a confidential consultation.
If both husband and wife have green cards, will they pay tax similarly as above options?
Resident individuals owning real property pay the same taxes, but not subject to the gross 10% federal withholding tax and the 8.97% New York State estimate income tax on the gains at the sale of the real property.
Can the Foreigners avoid United States taxes?
The taxes cannot be avoided.  The non-resident investor must pay the above taxes at the time of closing of the sale, without the tax payments, the deed will not be accepted for recording.  After having paid the taxes, the non-resident investor may, but need not, keep the proceeds in the U.S. without additional tax (except income tax on the interest payment on such proceeds).
---
Studio buyers and investors: THIS IS YOUR OPPORTUNITY! Newly built Downtown Starter Alcove Studio with a competitive priced to sell. Recent 2005 construction, flexible sublet policy, condop (co-op with condo bylaw), investor friendly(Unlimited Sublet Policy), beautifully designed with granite kitchen countertop, open kitchen, washer and dryer in each apartment, roof deck, fitness center…!, Pet Friendly, Parents buying for Children are allowed. Call today to schedule a private appointment.
---
100 West 39th Street: BRYANT PARK TOWER: DOUBLE PARK VIEWS from this CORNER 38th Floor Condo unit. It is Overlooking Bryant Park, with Views of The Chrysler Building, Dramatic Manhattan Skyline and Through Central Park and Beyond! Sparkling, Bright, with Huge OverSized windows, this Sunswept North East One-Bedroom Sanctuary features Bamboo Floors, Separate Dining/Office Area, Fabulous Closet Space, Sleek translucent Italian Iceglass doors, Limestone thresholds, and a Dream Kitchen with White Oak cabinetry, White Marble countertops, Lightolier lighting and Never-Used Appliances, all with a Soothing Spa-Like Pristine Bathroom outfitted with an Ivory Porcelain floor, Zuma tub, Heated Mirrors, Italgraniti Ceramic tile! This Top Condo with Doorman, "Quintessentially" concierge service, Free Laundry facilities, fitness room with flat screen TV's, Parking. Located in the Heart of the City.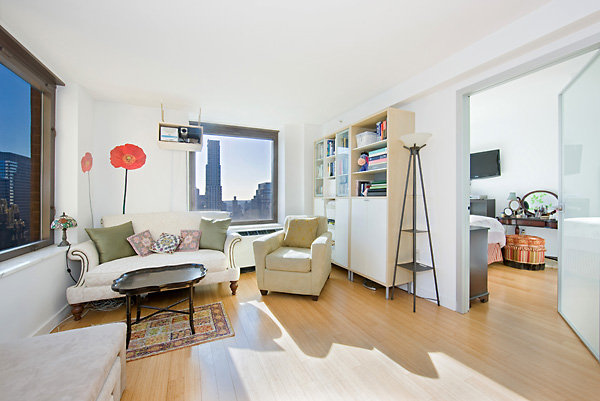 ---
This East Village One Bedroom apartment is located in the borough of Manhattan in New York City. It lies east of Greenwich Village, south of Gramercy and Stuyvesant Town, and north of the Lower East Side. Within the East Village there are several smaller neighborhoods, including Alphabet City and The Bowery.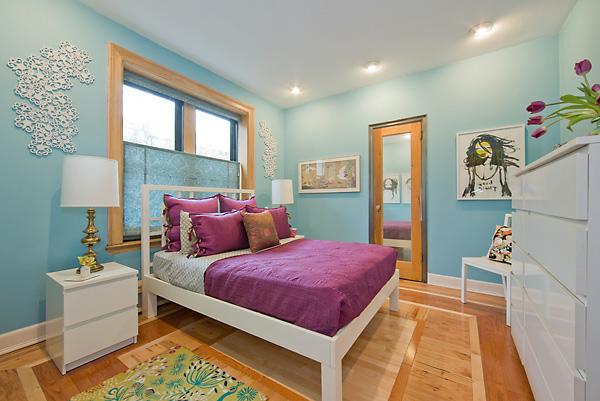 ---