January 2011
---
BRYANT PARK TOWER located at 100 West 39th Street: DOUBLE PARK VIEWS from this CORNER 38th Floor Condo unit. It is Overlooking Empire State building with dramatic Manhattan Skyline views.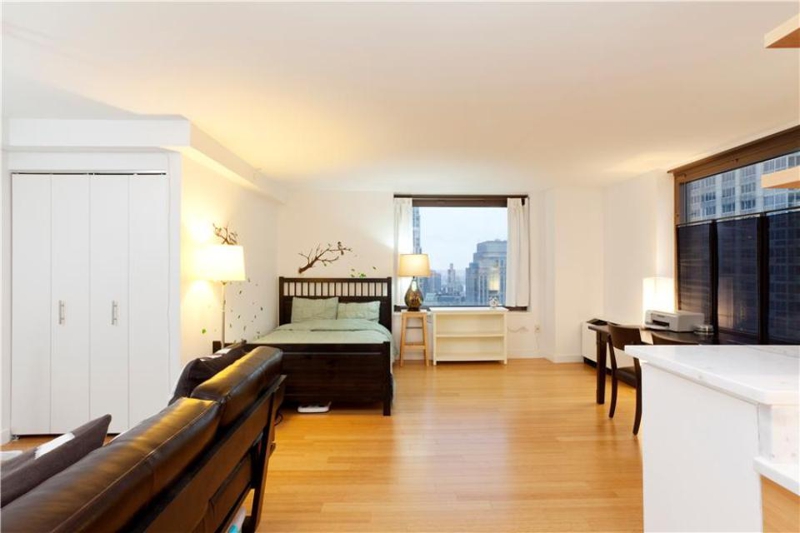 Bryant Park Tower (100 West 39th Street) has 43-story, mixed-use, it is located on the west blockfront on the Avenue of the Americas between 38th and 39th Streets, was completed in 2006 and has 93 condominium apartments on its top 11 floors.
Bryant Park Tower address is 100 West 39th Street, this condo unit has Sparkling, Bright, with Huge OverSized windows, this Sunswept exposure Junior One-Bedroom (alcove studio) Sanctuary features Bamboo Floors, Separate Dining/Office Area, Fabulous Closet Space, Sleek translucent Italian Iceglass doors, Limestone thresholds, and a Dream Kitchen with White Oak cabinetry, White Marble countertops, Lightolier lighting and Never-Used Appliances, all with a Soothing Spa-Like Pristine Bathroom outfitted with an Ivory Porcelain floor, Zuma tub, Heated Mirrors, Italgraniti Ceramic tile! This Top Condo with Doorman, "Quintessentially" concierge service, Free Laundry facilities, fitness room with flat screen TV's, Parking.
Bryant Park Tower, it is located in the Heart of the City…with the N,Q,R,S,W,1,2,3,7,9,B,D,F,V,S,4,5,6 Trains, Grand Central, Port Authority, and Penn Station Steps Away…Fifth Avenue Shopping, the Theatre District, Fabulous Asia de Cuba, Morgans, Fab restaurants and nightlife outside your door.
If you are a buyer that is looking to buy in Midtown East or Midtown West location, please contact us today to assist you in negotiating the best price possible. We have several amazing deals and steals for our buyers, we invite to call us and we can have some confidential conversation on your specific needs.
Other Manhattan New York Condos blog series that may be interest to you.
---
Where Foreign Investors Want to Buy
New York is expected to be the favorite city for foreign real estate investments in the U.S. and globally in 2011, according to an annual survey of members of the Association of Foreign Investors in Real Estate. Washington, D.C., came in No. 2 both within the U.S. and global markets for cities where foreign investors most want to invest in the new year.
More than 72 percent of the association members say they plan to invest more money in U.S. real estate this year than in 2010.

"As the fear of a double-dip recession has faded, investors are becoming more enthusiastic about the prospects for the U.S. economy and are taking aim at real estate investment opportunities," says James Fetgatter, AFIRE executive director. "However their strategy is more akin to a rifle than a shotgun. Except for multi-family housing, they are not scattering their interest throughout the U.S., but rather narrowly targeting it to New York City and Washington, D.C., to an even greater extent than in previous years."
The top U.S. city picks among foreign real estate investors in 2011 are:
1. New York
2. Washington, D.C.
3. Boston
4. San Francisco
5. Los Angeles
Greenwich Village-A fantastic Manhattan New York neighborhood
SoHo-A vibrant Manhattan New York neighborhood
---
Many of our foreign buyers are parents of International students from Europe, Asia, Canada, Latin America and other countries. Other than many career and investment opportunities, Manhattan New York has many distinguish universities and colleges that offers many international students undergraduate and graduate degrees. We helped many parents of international students from New York university, Parsons school of Art and Design, School of Visual Arts (SVA), Columbia University, the Jillard school, Cooper Union and other academic institutions.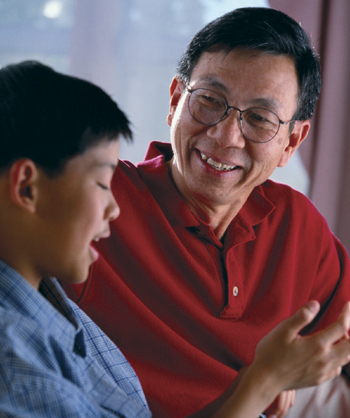 Here are some options for international students and the parents to consider:
School dormitory: If the student is very young and new to New York, the first year or first 6 months they usually stay in the dormitory so they can familiarize themselves with the city. This option is usually more expensive than renting an non-dorm apartment in the school surrounding areas.
Renting an non-dorm apartment: This option costs slightly less than dormitory, although as an International student or foreigner, majority landlords requires extra security deposit sometimes up to 6 months of rent upfront to 12 months rent to establish relationship and security. If the student or parents do not have United States social security number, nor US credit history, the parents usually have to pay for one year upfront to obtain an rental apartment.
Buying a Manhattan New York condo or building: This is often the option for most of the international parents chose. In today's market, there are well priced Manhattan New York condos for international students and parents to choose from.  The important thing is to establish the location, the price range and the time frame to maximize the Manhattan New York condo search.
Call us directly at (646)644-6929 to discuss your specific purchase as an international student or parents.
Buying a Manhattan New York Condo as parents buying for children, you should plan ahead, and speak with all the parties involved (not you and your child but rather the right mortgage consultant/banker, accountant and a knowledgeable Manhattan Real Estate attorney.)
Mortgage consultant: If you are planning to buy the condo all cash, that is always desirable when presenting offers to condo sellers. Keep in mind that you should have enough equity in case there is an increase in monthly carrying charge for this condo or other misc mishappens. If you are planning on financing this investment, be sure to speak to a local Manhattan lender that is familiarize with the market, the lending rules, and the mortgage products that may be suitable for you and your son/daughter.
Accountant: If you are planning to co-purchase the condo with your child, be sure to discuss the possible tax complication you may have with your accountant. Speak to your accountant prior to your purchase can be very helpful.
Manhattan Real Estate Attorney: In addition, speak to a local Real Estate attorney will be helpful as well since the local Manhattan Real Estate can also advise you what is the best way to structure the purchase and think about who/how should take the title of the deed.
Call us directly at (646)644-6929 to discuss your specific purchase as an international student or parents.
---
We as Manhattan Real Estate professionals, we work with many international foreigners wanting to invest in Manhattan Real Estate. In addition to educate foreign buyers about the maze of Manhattan Real Estate market, our specialty is facilitate the purchase to ensure the transaction is smooth and successful. Below are some frequent asked questions by our foreign buyers, the answers are formulated by our team of professionals (tax accountants and attorneys who also specialized in foreigners purchase in Manhattan New York.) These answers are general and not case specific.  To best address your specific needs,contact us directly by email or call (646)644-6929.
Can Foreign Nationals buy a NYC condo without having Social Security Number or US residency?
Yes, they can legally, but have to meet the NYC Condo board's requirements for approval. At the sale of the real property, Non-resident aliens are subject to federal withholding tax at 10% of the gross sales price, and to a 8.97% New York State estimate income tax on the net sales proceeds (gains).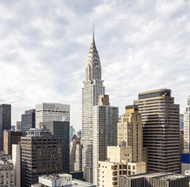 Can Foreign Nationals with work visa or student visa buy Manhattan Properties?
Yes, they can legally, but have to meet the condominium/coop board's requirements for approval.  If they remain non-resident aliens at the time of the sale of the real property, they will be subject to the same taxes at the time of sale, as above.
If not, what kind of documents should a foreign nationals prepare to be able to buy?
In order for a Foreigner to buy NYC condo, they need to have  a valid passport and/or other official photo ID for identification purpose.
What are the Options for Foreign Nationals (non-residents aliens) to hold title for NYC condos: (these answers are information only, we are Real Estate professionals, therefore, before you make a specific decision, we recommend you to discuss with our team of attorneys and tax accountants for your specific case.)
Individual: Individual may be exposed to unlimited personal liability, and to estate issues, for instance, inheritance,  will probate and estate administration, when the individual owner dies.
LLC: Limited Liability Corporation provides insulation for members from personal liability, but will incur maintenance costs, such as  filing fees for its formation, annual franchise tax  and is subject to higher formation costs (higher than a corporation).
Trust: Trust is an unincorporated entity, cannot hold title by itself; title must be reqistered in the  individual trustee's name.;  the individual trustee may be exposed to unlimited personal liability.
S Corporation: S Corporation is a legal entity, insulates shareholders for from personal liability, does not pay income tax itself, the income tax liability is attributed to the shareholders.  It is subject to filing fees for incorporation, annual franchise tax, etc.
C Corporation:  C Corporation is a full fledged legal entity.  It provides shareholders insulation from personal liabilities.  It is a taxable entity for corporate income tax.  Any distribution of after tax profit to shareholders in the form of dividends will be subject to income tax for the shareholder.  It incurs maintenance costs, such as filing fees for incorporation, annual franchise tax, etc.  Its filing fees are less than that for the LLC.
Limited Partnership: the limited partner's liability is limited to his/her capital interest in the limited partnership, whereas the general partner will be subject to unlimited personal liability.  Limited partnership, like general partnership does not pay income tax.  The income tax liabilities are attributed to the individual partners. A limited partnership need to file the partnership agreement with the government.
*These answers are general and not case specific. To best address to your specific case, contact us directly at (CONTACT US) and we can set up a confidential consultation.
If both husband and wife have green cards, will they pay tax similarly as above options?
Resident individuals owning real property pay the same taxes, but not subject to the gross 10% federal withholding tax and the 8.97% New York State estimate income tax on the gains at the sale of the real property.
Can the Foreigners avoid United States taxes?
The taxes cannot be avoided.  The non-resident investor must pay the above taxes at the time of closing of the sale, without the tax payments, the deed will not be accepted for recording.  After having paid the taxes, the non-resident investor may, but need not, keep the proceeds in the U.S. without additional tax (except income tax on the interest payment on such proceeds).
---
Many of our VIP buyers love this condo building. Time Warner Center is located on the corner of Central Park south and Columbus Circle. This beautifully constructed, mixed-use, two -towered, glassed buildings replaced the old New York Coliseum on Columbus Circle and was completed in 2004/2005.

The Time Warner Center complex consists of retail space with shopping center, offices that include the headquarters of Time Warner, a jazz concert hall for Lincoln Center for the Performing Arts, a five star Mandarin Oriental hotel, CNN TV studios and over 200 condominium apartments.
The building has several street addresses: including 25 Columbus Circle for the South Tower and also known as One Central Park, 80 Columbus Circle for The residences at the Mandarin Oriental hotel, and 10 Columbus Circle for offices.
Columbus Circle Condos Part 1 – Time Warner Center condo- As of August 2010: here are the market prices for 80 Columbus Circle also known as Mandarin Oriental residences (SOUTH TOWER) :
9 active sales listings: $5,839 per ft² (median)
28 previous sales listings: $4,051 per ft² (median)
62 recorded sales: $6,575,000 (average price)
Two Bedroom condominiums starts at $5,700,000.
Three Bedroom condominiums starts at $18,000,000.
If you would like to receive specific Time Warner Center Condo information, please contact us at 646. 644. 6929 We can discuss specifically as to what exposure works best for you.
Other Time warner Center and Central park New York condos information:
---