July 2010
Studio buyers and investors: THIS IS YOUR OPPORTUNITY! Newly built Downtown Starter Alcove Studio with a competitive priced to sell. Recent 2005 construction, flexible sublet policy, condop (co-op with condo bylaw), investor friendly(Unlimited Sublet Policy), beautifully designed with granite kitchen countertop, open kitchen, washer and dryer in each apartment, roof deck, fitness center…!, Pet Friendly, Parents buying for Children are allowed. Call today to schedule a private appointment.
---
Manhattan Condo investment Under $500,000 USD is a popular request - We receive several phone calls a day from investors and first time home buyers looking for properties under $500,000 USD.  Savvy buyers are on the market right now looking for a condo as their long term investment. Our team is active on the market and have a list of the best Manhattan Condos within that price range if that is what you are looking for.
Manhattan Condo investment Under $500K-Midtown Park Avenue Studio condo $499,000. (Rental value range $1,800-$2,150)* Approximately 500 Square foot, full time doorman building with pre-war details. This building is situated in the Midtown of Manhattan, conveniently located near all major subway stations and transportation. (monthly combined common charge and Real Estate taxes are approximately $900.)
Manhattan Condo investment Under $500K – Kips Bay recent construction Studio Condo $498,000. (Rental value range $1,650-$1,900)* Approximately 450 Square foot. Full time doorman concierge building. Health club, residents lounge, roof deck and laundry every floor. This particular apartment also features Empire States Building view. (monthly combined common charge and Real Estate taxes are approximately $850)
Last Manhattan Condo investment Under $500K-Grand Central station neighborhood Studio Condo $425,000 (Rental value range $1,800-$2,200)*CURRENTLY TENANT OCCUPIED FOR $2,200. This condo is located in one of the best neighborhood in Manhattan, it is close distance to Grand Central Station, major subway stations, and office buildings. This condo building has 24 hours doorman, swimming pool, fitness center and racquet ball court. (monthly combined common charge and Real Estate Taxes are approximately $700)
Manhattan Condo Under $500,000 are popular among pied-a-terred or second home buyers. Besides servicing the local market, we also work with many buyers from out of town, oversea foreign buyers. Manhattan New York is a city that everyone loves and would like to own a piece of. Our out of town buyers look into studio apartments as a long term investment as well as second home for them when they visit the city of Big Apple.  Not only it is a wise investment, they save the hotel expenses when they or their family/friends visit the big city. Especially during holidays, many of our out of town past clients come into Manhattan New York to enjoy the festive lights and the holiday energy that this big city has to offer.
To find other similar Manhattan Condo investment Under $500,000 USD that suits your needs, please Contact us for your own Real Estate consultation call (646)644-6929 or email EileenHsu(@)Gmail.com

Read more:
We are both English and Chinese Speaking Real Estate agents here in Manhattan New York with extensive market knowledge. In addition, we specialize in connecting the local Manhattan sellers with both local and international buyers with our preferred buyer networks. Call (646)644-6929 today.
---
100 West 39th Street: BRYANT PARK TOWER: DOUBLE PARK VIEWS from this CORNER 38th Floor Condo unit. It is Overlooking Bryant Park, with Views of The Chrysler Building, Dramatic Manhattan Skyline and Through Central Park and Beyond! Sparkling, Bright, with Huge OverSized windows, this Sunswept North East One-Bedroom Sanctuary features Bamboo Floors, Separate Dining/Office Area, Fabulous Closet Space, Sleek translucent Italian Iceglass doors, Limestone thresholds, and a Dream Kitchen with White Oak cabinetry, White Marble countertops, Lightolier lighting and Never-Used Appliances, all with a Soothing Spa-Like Pristine Bathroom outfitted with an Ivory Porcelain floor, Zuma tub, Heated Mirrors, Italgraniti Ceramic tile! This Top Condo with Doorman, "Quintessentially" concierge service, Free Laundry facilities, fitness room with flat screen TV's, Parking. Located in the Heart of the City.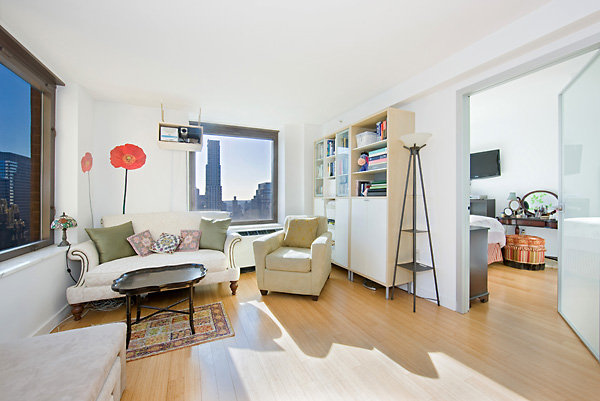 ---
This East Village One Bedroom apartment is located in the borough of Manhattan in New York City. It lies east of Greenwich Village, south of Gramercy and Stuyvesant Town, and north of the Lower East Side. Within the East Village there are several smaller neighborhoods, including Alphabet City and The Bowery.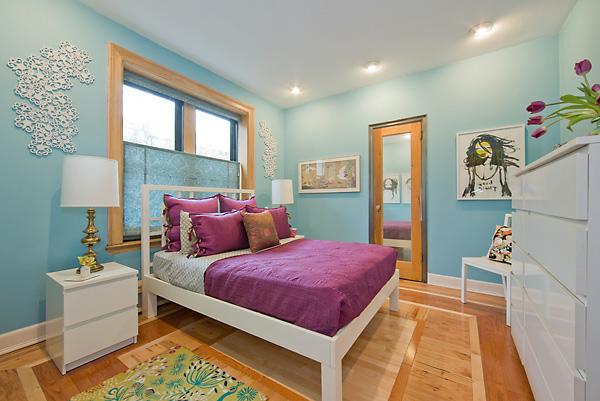 ---
As Manhattan Condominium Market is seeing some slowdowns in Sales, the new developments sales are also slowing down compare to 6 months ago.  Sellers and Seller agents are working hard to come with creative marketing to help sell more condominiums, developers are no different.
88 Greenwich Street located in the Financial District of Manhattan is one of my personal favorite New Development around. Unlike any other New Development in Financial District, this project has sold out over 90% and the last few units left are up for negotiation if the buyer has the right buyer's representation.
88 Greenwich Street is 37-story, Art-Deco story skyscraper also known as the Greenwich Club, has been converted from a rental to a condominium apartment.
Overall, 88 Greenwich is a fantastic project. I love the location, with three subway lines within three blocks, and the Downtown area is growing rapidly. I am told by all of my past clients who bought in the building, they told me the management and maintenance to be great, and the super was very helpful as well.

Contact us today at (646)644-6929 to find the suitable Financial District condos.
---
Yesterday, our team started our 2009 Sunday afternoon Manhattan Elite Condo Tour.  The property prices ranged from $5 million to $13 million. We had about 20 or so buyers and their family and friends to join us on this fantastic tour. We received over 50+ inquiries in the first week of the launch of this campaign, and we will continue our tour scheduling for the year of 2009.  The tour features some of the best condominiums for oversea buyers, both as a second home and as investment property.
每周日下午, 金屋网组织曼哈顿高级康斗参观团(Condo Tour). 每周参观的地段不一. 欢迎免费报名参加. 参加者会收到一份分析纽约曼哈顿房地产市场的最新资料"曼哈顿地产必读".请输入您的姓名, 电话和Email, 以便收到最新康斗免费公展信息.
Our first stop was 'The Veneto' 250 East 53rd Street, it is a 34 story full service building of Composed Perfection. Great amenities at the Veneto condo residences include the Fitness Lifestyle by Equinox, including Private Fitness Center and Fitness Concierge Services and the children's play room, aptly named "Arcobaleno," are perfect retreats for residents.
Our buyers absolutely loved the building, the location, the finishes of the kitchen and bathrooms. Some commented that the bedrooms were smaller than they preferred, but they were delighted to see that there was ample closet space in each room, and they were all in awe with the unobstructed views of the Manhattan Skyline!
Our Second Stop was the Milan, 300 East 55th Street. The buyers were very impressed by the design and style of the building lobby. They thought it was very grand, spacious and airy.
(The lobby and atrium club room were designed by Jay Valgora of Studio and the outdoor bamboo garden was designed by Ken Smith. The building has an 8-story base and chamfered corners and some angled windows.)
在房地产买卖中, 最重要的第一条原则是房地产的地段和位置. 曼哈顿住家房地产的位置更加重要. 因为曼哈顿面积很小, 不同地段的公寓特点独特, 位置不同, 价值完全不一样. 买不同的地段之前, 必须了解曼哈顿区域和地段. 曼哈顿可以分为以下几个地区:上城东区(Upper East Side), 上城西区(Upper West Side), 哈来姆(Harlem), 中城东区(Midtown East), 中城西区(Midtown West), 桥西区(Chelsea), 格林威治(Greenwich Village)和东村区(East Village), 叟湖(SOHO), 和华尔街金融区(Financial District).
不同的投资者, 有不同的投资目的. 一般来说, 上城东区, 上城西区, 中城西区, 中城东区, 桥西区和华尔街金融区, 有不少位置优异, 条件最佳的高级公寓, 房屋交易频繁, 非常活跃, 保值的因素最佳,出租市场更加活跃. 当然其他的地段也看到很多升值的现象. 我们房地产经纪人的主要工作是协助您找到最佳地段, 最佳公寓, 最合适你的投资目的. 帮助你找到您最喜欢的高级公寓. 我们也可以提供您的房屋出租服务.
Our third Stop was 207 East 57th Street, Place 57. Place 57, grandly located at one of the world's most international addresses, is an inspired work of architecture thoughtfully interpreted to offer the intimate and embracing elements of home. Rising a graceful thirty-six stories, this arresting glass tower created by acclaimed architect Ismael Leyva consists of sixty-eight luxury residences. Our buyers loved the location, thought it would be very easy for them to travel to work in the morning and also be able to dash out of Manhattan on the weekend since it is right by the out of town bridges.
很多人可能认为纽约曼哈顿的房地产很难购买, 不知道从哪里开始. 我们的网站和服务, 不仅提供地产市场分析, 市场走向分析, 中国人购买房地产的特殊问题, 曼哈顿区域地段知识, 新建高级公寓购买问题, 而且提供房地产有关法律规定, 房屋贷款问题, 以及美国个人所得税和财产税问题的答案. 我们会帮您建立你的团队, 协助您在纽约找到最佳的房地产.
Last stop, we were uptown near Central Park in a Prewar building. It was a loft apartment with a massive layout of over 3,000 square feet. The seller was kind enough to provide afternoon refreshments including, coffee, tea, and pastries to allow our buyers to have a rest and enjoy the scenery. We were able to discuss with each buyer individually what they were interested in and their overall goal in purchasing and investing in Manhattan Real Estate.
High Ceiling loft apartment makes the entire space feels airy and unique. Our buyers were very pleased with this space and thought it was great to be able to live right on Central Park.
In short, our Condo Tour was a huge success. We want to thank all the buyers that attended our tour. We will continue to have the tour in different  price ranges and Manhattan neighborhoods. It will all be condominiums that are friendly for foreign buyers as second home, investment, pied-a-terred. So they too can have their very own piece of Manhattan. Please visit our website to register or to find out more information please visit: http://www.ChineseBuyNYC.com
*BUYERS AND INVESTORS, we also cater property tours for other language speaking foreign nationals or private one-on-one consultation and tour. For a tour that is specific to your needs, please contact us for specific details)*
*SELLERS AND DEVELOPERS, WE SPECIALIZE IN FOREIGN NATIONALS PURCHASING MANHATTAN CONDOMINIUMS/REAL ESTATE INVESTMENTS. CONTACT US TODAY TO DISCUSS HOW YOU CAN BENEFIT FROM WORKING WITH OUR TEAM TO MAXIMIZE YOUR MARKETING EXPOSURE TO OVERSEA MARKET. (we work with highly financial qualified buyers that are seeking to purchase multiple investment condominium units*
---
We have had many savvy Chinese buyers wanting to see condos near the famous Central Park. One of the building that is very well designed, it is 15 Central park West. It is situated on one of the most well known Avenue (Central park West) and West 60th Street.
我們有許多精明的中國消費者希望看到的公寓房附近著名的中央公園。其中一個建築,設計得非常好,它是15中央公園西。它坐落在其中一個最有名的大道(中央公園西)和西60街。
15 Central Park West is a composition of two limestone towers, with an open courtyard between that acts as a private motor entrance to the building. The 202 apartments range from one-bedroom to four bedroom homes featuring large casement windows, high ceilings, dining rooms, lots of moldings, plenty of natural light and open views in all directions. Amenities in this ultra luxury building include a private dining room for residents, a walnut paneled library, a screening room, private wine cellars, a health club and pool.
15中央公園西是一個石灰岩組成的兩個塔樓,以開放的庭院之間,它作為私人汽車入口的建設。 202公寓的範圍從一居室到四家臥室設有大窗戶窗戶,高高的天花板,客廳,大量的造型,豐富的自然光線和全方位開放的意見。 在這個超豪華設施建設包括私人餐廳為居民,核桃鑲板圖書館,放映室,私人酒窖,健身俱樂部和游泳池。
We are both Chinese Mandarin and English Speaking Real Estate agents here in Manhattan New York under one of the most successful Manhattan Brokerage firm Prudential Douglas Elliman with extensive market knowledge. In addition, we specialize in connecting the local Manhattan sellers with both local and international buyers with our preferred buyer networks. Call us today at (646)644-6929.
我們說流利的中文和英文,我們幫助了許多中國亞洲朋友們在曼哈頓房地產投資。我們有多年的經驗,我們是紐約最大的公司及擁有最多房源. 麻煩請給我們打電話,討論您個人的需求。許小姐的手機號碼(646)644-6929.
To Read More on buying Manhattan New York city Real Estate Click below links:
---